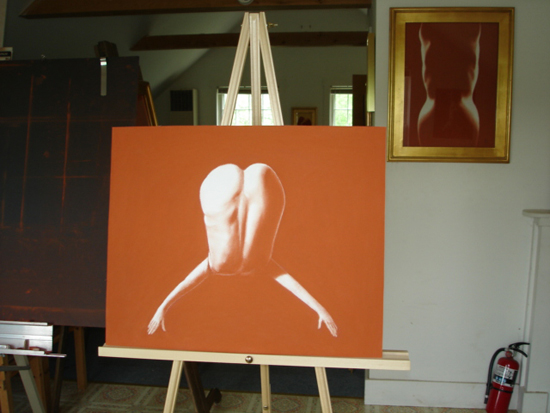 Technique
The drawings here (some call them paintings rather than drawings) are made with pastel sticks. The paper itself is the lightest color, and I draw the red onto it.
All I work with is the pastel stick, my finger, and an eraser. I don't use blending tools (stomps, brushes, etc.) or any other tools.
I work from the model, generally from photographs that I take. I spend quite a bit of time fiddling with the light, and if I'm lucky, out of 100 photographs that I take I may get one that I can draw from. And if I'm lucky again, that drawing may turn out well.
No computer is involved at any point in the process. I don't use software inside or outside the camera to adjust the lighting or anything else on the photographs of the model that I take. Instead, I use real sunlight, and real studio lights, on the model. And when I move to doing the drawing itself, I draw in daylight only, because I want to control very closely the exact effect of the light in the drawing.
Light, for me, is everything. It's true that many artists say that, and I agree with them.
An Interesting Quality
There is an attribute of these drawings that you may find interesting. In a room with the lights out–perhaps a tiny bit of light drifting in from another room–the drawing will be the lightest object. The drawings seem to glow in the dark. I've observed this effect many times, and I can't account for it.
Figurative Art
The nude is what I learned in school, and it is still what moves me the most. I find beauty in the human condition itself, with all our flaws and asymmetries, rather than in some idealized, artificial vision of perfection. We share humanity, share life, and I for one stand in awe of it.
About the Yoga Art
A lot of the yoga art I've seen falls into two categories. The first portrays difficult poses that might be labeled "Don't try this at home"–that is, mainly the inverted positions. This is especially true of the photographs I've seen. The second category gives a kind of encyclopedic sampling of the full range of yoga poses, which can be useful as a reference.
My focus is different. My models love and teach yoga, and yoga is an important and exciting part of my own life. The focus in my yoga series is on the beauty and spirituality that I find when people who love yoga are doing yoga. What I'm after is as simple as that–yet perhaps not so simple. The inherent power of yoga can be expressed in all positions and even by the way the light falls. The models feel the pull of yoga, I feel it when I am working with them and drawing from them, and it is my hope that the viewer will feel something of this beauty and power, too.
Social Justice Art
Through a chain of events, I realized I had to travel to Auschwitz in 2014, and I spent several days going through the camp. It would be an understatement to say this moved me deeply. I spent several days there again in 2016. One thing I have been keenly aware of since the trips is that Holocausts, or rampant killing of people because of their religion or ethnicity or race or some other comparatively superficial characteristic compared to the common humanity that all people share—have never stopped, to the moment that you are reading this.
From photos I took at Auschwitz, I have been drawing portraits of people who perished there. My aim is humble: I would like the individuals to be remembered for 200 years. This is not so far-fetched! It has already been 75 years, and the materials I use for these portraits can easily last another century or two.
One-hundred percent of the purchase price of the Holocaust portraits will be donated to Blue Card, a charity helping Holocaust survivors who are having a little trouble making ends meet—as many older people are—to live better.
I have begun to broaden my focus in what I am now calling Social Justice Art. An example is "Shouldn't We Have Done Something?" This is a triptych showing three people who were victims of the supposedly civilized societies we belong to: an Auschwitz victim, an African American shot dead by police, and a 3-year-old Syrian refugee whose body washed up on the coast of Turkey.
In the case of the triptych, the purchase price will be split into thirds, going in equal parts to Blue Card, Black Lives Matter, and Doctors Without Borders.
Select older pieces are shown in the archive (but are not available for sale).